Plant and Standards : Any technology solution is evaluated on the basis of how much it is in tune with the latest advancement. When DB Electricals set up a modern facility at Goa in 2001 to manufacture Power Distribution & Control Panels, we embarked on a policy of deploying the state-of-the-art in our manufacturing process to uphold quality standards and provide reliable products.


From blueprint to execution : Our full fledged Design Center at our Mumbai office is supported by high-speed processors and advanced designing software. Our fabrication unit, directly overseen by our production manager, utilizes the latest equipment. High end CNC machines and other automated machinery are used to execute cutting, punching, bending and welding. Together, these ensure rapid processes, ultra precision, and eliminate the scope for error.

We give much attention to Powder coating, and follow the 7 Tank process and spray the panels with Ferrocoat, Marpol and Berger powders. Before a panel is sent to the shop floor for wiring and assembling, the coating undergoes an inspection. The wiring and assembling itself takes place in a separate dedicated unit to ensure a clean atmosphere.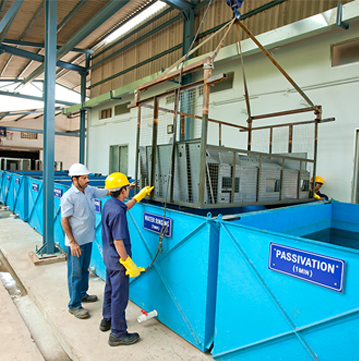 Tried and Tested : The latest testing tools are applied throughout the manufacturing and prior to product despatch. An advanced thermal imager ( FLUKE Ti125 ) installed in our infrared thermal testing facility helps us to pinpoint the hot spots ( invisible to the human eye) in any panel section that have been created by overheating or a loose connection.
The extent of sophistication can be gauged by the fact that we have top-notch clientele in Software & IT Centres, Healthcare and Entertainment Production Facilities.